Pressure water System.
The floor in the galley was beginning to show staining from being wet. It was tracked down to a leak in the pressure water system under the galley sink. The space is shared with the compressor for the Alder Barber refrigeration. We replaced a fitting on the Atwood pump and replaced the water line from the accumulator tank to the distribution manifold by the water heater. This changed the water line from three pieces clamped together to one reinforced water line.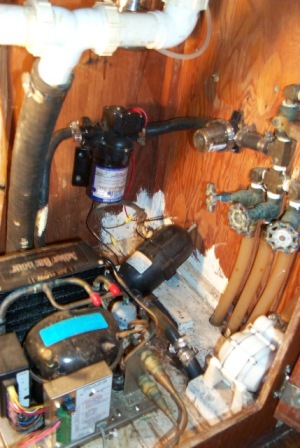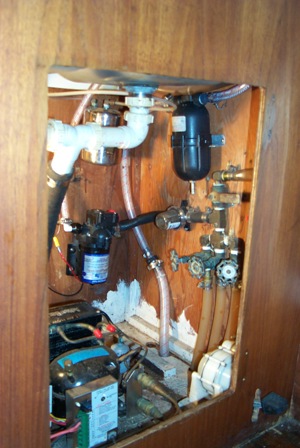 By changing hose lengths we were able to relocate the accumulator tank to the side of the cabinet rather then lying on the floor. There is a shelf that goes above the compressor so that the space is still usable. We now have tags on the three valves leading to the water tanks to show if full or empty and which is active.
At the same time it was found that one of the compression fittings to the sink had a slow drip. We changed out the plastic fittings with brass compression fittings at all three sinks.